Square Enix has announced that the company will be celebrating the 11th anniversary of
Final Fantasy XI
with two new "Return Home to Vana'diel" campaigns, along with a December update.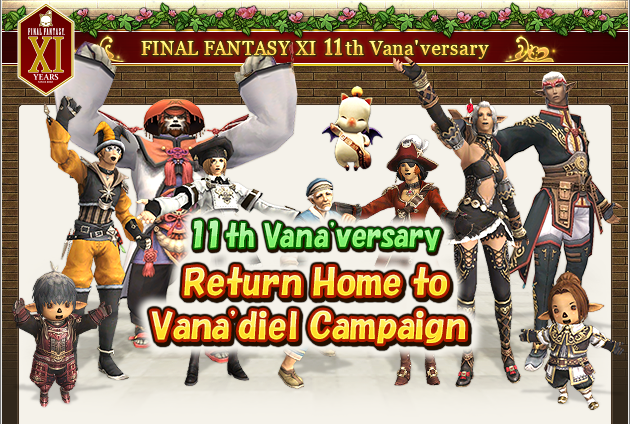 The update includes the following changes:
* Trust system: Team up with famous personalities from throughout Vana'diel!
* Records of Eminence: New content to tackle while playing solo!
* Faster movement: 25% movement speed increase in outdoor areas!
* Teleporting between home points: Even more convenient ways to travel!
* In-game currency menu: See all your currency and standing at a glance!
* Wide Scan expansion: Utilize this feature regardless of your job!
* Increased Mog Garden availability: Access for those who have not registered Seekers of Adoulin!
In addition, any former subscriber now inactive can play free from now through the 23rd December. December 23, 2013 at 6:59 a.m. (PST) During that time, players can download a free trial version of the Final Fantasy XI: Ultimate Collection Seekers Edition, which contains every expansion from "Rise of the Zilart" to the latest "Seekers of Adoulin".
Players interested in checking out where Final Fantasy XI is at right now can visit the official page here.